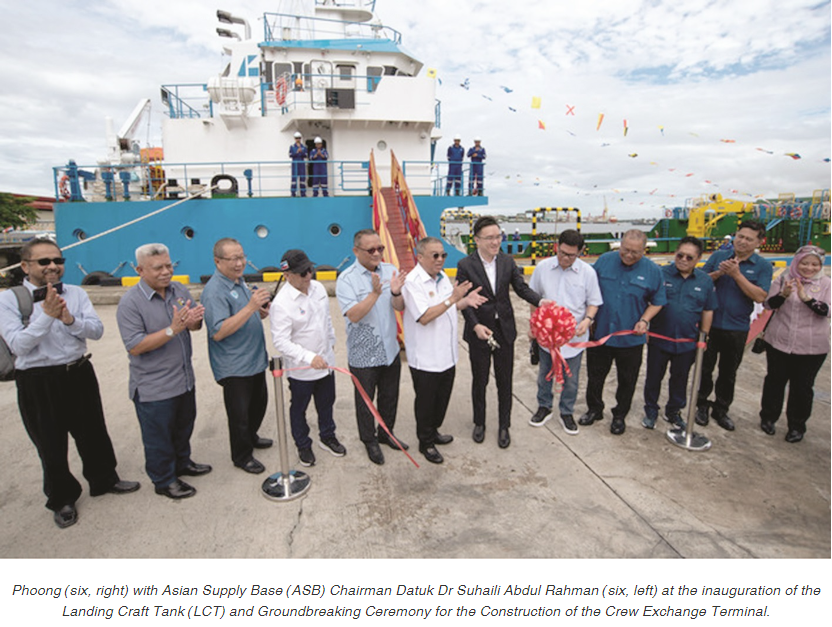 LABUAN: An oil and gas (O&G) crew change terminal, catering to sign-on and sign-off activities, will be constructed at an approximate cost of RM15 million at the Asian Supply Base here.
The terminal will house local authorities from the Immigration Department, Royal Malaysian Customs Department and Health Department for the screening of travel documentations of O&G Malaysian and international seafarers.
Featuring facilities for customs and immigration clearance, a drug and health checks centre and baggage inspection, the project is scheduled for completion in August 2024.
Asian Supply Base Sdn Bhd (ASB), a Labuan-based Sabah government-linked company (GLC), operates an offshore supply base supporting O&G exploration, development and production (EDP) activities off the coasts of Sabah and Sarawak.
Sabah Industrial Development and Entrepreneurship Minister Datuk Phoong Jin Zhe said the Sabah Government would facilitate the operation of the crew change terminal.
"We are focused on the positive development of ASB as Sabah's GLC… we must ensure the smooth operation of the O&G crew change terminal at the ASB base.
"The return of crew change activities to Labuan will have a significant positive impact on the island, with hundreds of O&G crew members arriving and departing daily once the crew change kicks off," he said at a press conference at Dorsett Grand Labuan after the launch of ASB's newly-built landing craft tank and the ground-breaking ceremony for the construction of the crew change terminal.
Phoong added that the crew change terminal has received an exemption order from the Sabah Home Affairs and Research Office (PHEDNP) of the Chief Minister's Department on April 22, 2022.
This order authorises ASB to obtain approval for O&G crew change documentation clearance from PHEDNP and Sabah Immigration Department.
ASB Chairman Datuk Dr Suhaili Abd Rahman emphasised ASB's commitment to ensuring the terminal's international standard facilities, competitive with existing terminals in Sarawak and Kemaman, Terengganu.
"We aim to provide a modern crew change terminal catering to Malaysian and international O&G crews. We aspire to be a leading provider of crew change terminal facilities, showcasing our capabilities to clients like Petronas, a key player in our business activities."
He said while waiting for the terminal's completion, crew change activities would temporarily be carried out at the existing facilities at ASB starting Jan 1, 2024.
Labuan Corporation Chief Executive Officer (CEO) Rithuan Ismail expressed gratitude to Sabah Chief Minister Datuk Seri Hajiji Mohd Noor for enabling the construction of the O&G crew change terminal.
He said: "With crew change activities returning to Labuan next year, we are hopeful that Labuan's economy will thrive again, benefiting local eateries and hoteliers."
ASB's CEO Japar Esteban noted the crew change terminal, functioning as a one-stop centre for O&G crews, would be equipped with the highest safety and security systems.
He emphasised the terminal would alleviate the burden on petroleum arrangement contractors who currently divert their crews to Kota Kinabalu for immigration clearance before departing for oil rigs.
"The crew change terminal will contribute to the Sabah Government's revenue and attract more O&G crews to Labuan, thereby bolstering the island's business sector," Japar said.
Source:
https://www.bernama.com/en/business/news.php?id=2114086#.YwX0T4cY5pY.whatsapp